Archive for the 'Silliness' Category
For some reason, this is requested (might not show up but click the link)…..:
Throw on your glad rags, roast the turkey and wake up your Gran, because Deeprun Pest Control (DPC) are hosting a festive celebration, and the whole server is invited! As usual, DPC will play host to a selection of events including a costume contest (with a TCG prize), firework display involving over 3000 rockets as well as a huge gift give-away for the whole server!
Date: Monday 22nd December
Time: 21:00 game time
Location: Kharanos, Dun Morogh
Trailer: http://uk.youtube.com/watch?v=LLQPv86MXMw
See the forum thread on the Aggramar forums for more details!
Last weekend, Deeprun Pest Control held the Monkey Island event on Aggramar. Visitors came from far afield: both Horde and Alliance alike were present, including many from far-off servers…
Arena Brawl
The first event was a 9-way class vs class battle in the Gurubashi Arena to see which class could successfully open the treasure chest. It didn't take long for the mages to be victorious, but this may have been because some classes were just having too much fun ganking their favourite anti-class.
A video of this event was recorded by Wietkop from Strawberry Tigers.
Treasure Hunt
The class battle was followed by a scavenger hunt across Stranglethorn Vale. Following the clues given, the brave adventurers set off in search of such rare items as a message in a bottle and a cockatiel, before finally finding the elusive Buygrush to deliver the items in person.
The winner of this event was Lagola (aka. Amadrienia) from Deeprun Pest Control, who won a "The Footsteps of Illidan" TCG card complete with code for[Path of Illidan.
Costume Contest
The penultimate event was the much anticipated costume contest. Judging the winners was tough, there were many great entries, but eventually 3 clear winners emerged. The 2 runners-up were Pandiani (as Medivh) and Tamber (as an Orc Grunt), each of whom won a "Pet Biscuits" TCG card.
The winner of the contest was a dwarf named Balarak, dressed up as an Irridiated Sentry gnome from Gnomeregan (complete with Alarm Bot pet). He was awarded the grand prize of a Beta key for Wrath of the Lich King.
Fireworks Display
The final event was a spectacular cliff-top fireworks display. Tens of thousands of fireworks went up in smoke in a stunning display.
A video of the costume contest and the fireworks display was recorded by a visiting cameraman, Existensa. An outtakes video is also available courtesy of Wietkop.
We'd like to thank Skypheonix for organising yet another highly successful and memorable event, and to everyone who attended: thank you for coming, and we hope you had a good time!
Also thanks to the 2 GMs who turned up to show us their moves!
Deeprun Pest Control (DPC) are inviting Aggramar to join them in waving goodbye to the summer in a very special event where we reveal the Secret of Monkey Island! Themed on the game, this event involves a costume contest, treasure hunting, class v class arena war, and the infamous bouts of insult sword fighting! And, as the finale, we'll be closing with the biggest fireworks display to date!
Starting time: 2:45pm game time, 13th September
Location: The Stranglethorn arena
Lower level escort will leave from Darkshire centre at 2:30 sharp. Don't be late!
For full details see the thread on the EU Aggramar forums.
Malefic Mask of the Shadows every Maulgar kill so far now!!!
As much as we love our Feral Druids and the odd confused Rogue, WTB Different loot! That is all! P.S. Buff Shaman!
Boredom is a terrible thing, so a typical Sunday night lead to our intrepid Priests deciding to show us what 5 Priests can do…fed up with the druids showing off about their 10 Druid UBRS runs etc they decided to 5 Priest Stratholme! It's worth noting ofc that they are all Disc/Holy Spec as well btw! Loot was…er mostly DE'd but Devout Bracers and Gauntlets of Valor were at least Auctionable!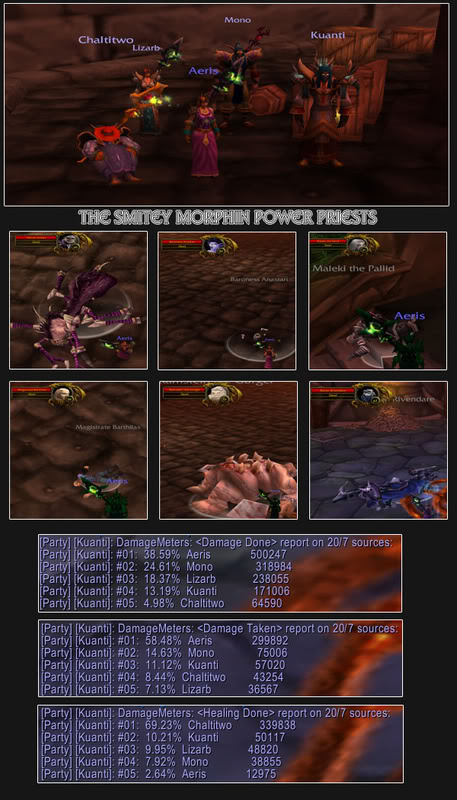 Tuesday 22nd August: Deeprun Pest Control strikes a decisive blow against the horde by assassinating their Warchief Thrall in a daring but brilliant raid.
Led by the charismatic Skypheonix, the plan was simple but stunningly effective. An elite summoning team sneaked into Orgrimmar in the dead of night ready to summon the entire raid into position the next day.
While the summons were taking place, a brave secondary team assaulted the Undercity of Lordaeron with the intent of causing the largest distraction possible. This they accomplished with honours. Their brave sacrifice will not be forgotten.
Once the assault began, Thrall soon fell. The warchief he may be, but he and his lieutenants didn't stand much of a chance against a surprise attack from a 45-strong team of DPC raiders. The horde were caught completely off guard.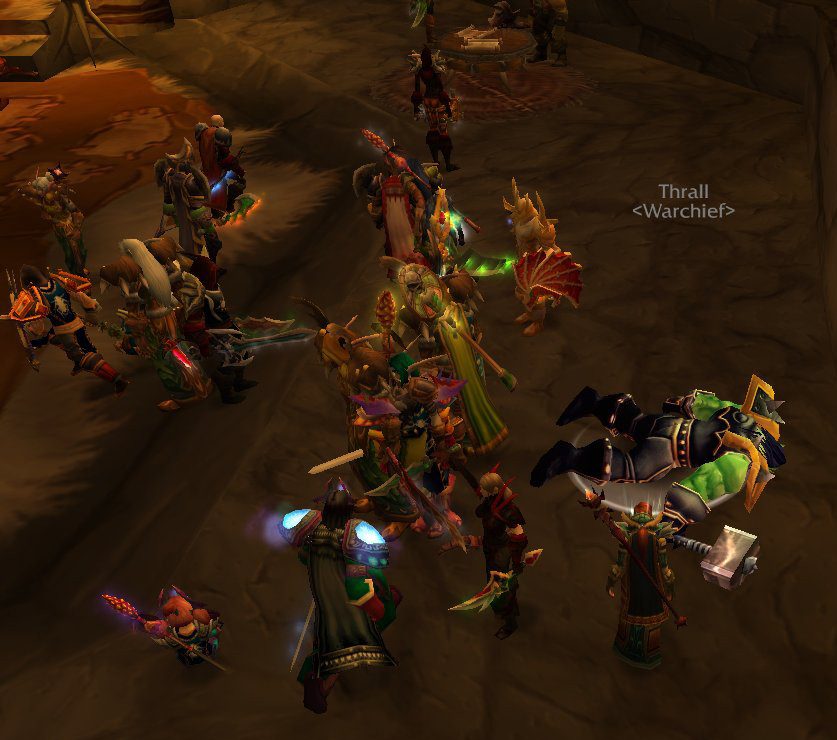 After the battle, we proceeded to the centre of Orgrimmar for a spectacular fireworks celebration in true DPC style!